Twilight Chant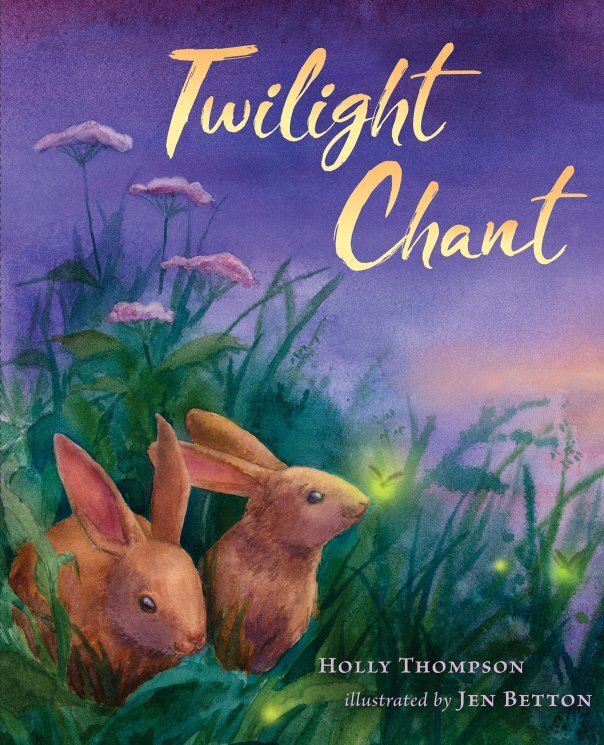 Twilight Chant by Holly Thompson, illustrated by Jen Betton (Clarion/HMH, March 20, 2018)
A 2019 NCTE Notable Poetry Book
A lyrical exploration of the transition between day and night and of the animals who thrive during this special time.

As day slips softly into night, sharp eyes catch glimpses of the special creatures who are active at dusk.

Lyrical text and lush art capture the richness and life of this magical time in a sumptuous picture book that will inspire budding naturalists and anyone who has ever chased a lightning bug at twilight. An author's note about twilight is included.

Order Twilight Chant from your library, your local bookseller, or from Indie Bound, Amazon, or Amazon Japan.
Download the Twilight Chant Teacher's Guide here. This guide helps teachers integrate Twilight Chant into English language arts
(ELA), mathematics, science, and social studies curricula. Art and drama are used as a teaching tool throughout the guide.
Watch the Twilight Chant Book Trailer


REVIEWS

"As twilight arrives, the crepuscular creatures emerge. In twilight's "sun has just gone down light," egrets "fly to roost" and swallows "skim above the fields," while deer "come out to graze." In twilight, bats "swoop and swerve" and rabbits hop and nibble. Leaving their dens, foxes "sniff out birds and voles" and firefly lights blink off and on. "The skunks slink over lawn," the June bugs seek leaves to munch, and stretching cats prowl for mice. Thompson's languorous, cadenced lines poetically capture the light-infused stillness of this special time of day by repeating both the word "light" at the ends of many phrases as well as the phrase "twilight the low light"; the design enhances the effect by carefully positioning the spare text on the page for maximum effectiveness. Betton's realistic, double-page illustrations, in watercolor, pastel, and colored pencil, showcase animals, insects, and birds mentioned in the text in their native habitats, active and vibrant against the luminous lavenders, pinks, blues, and yellows of the twilight sky. A useful note "About Twilight" explains the period of low light "after sunset and before sunrise" when crepuscular animals are active, listing those visible in North America and featured in the text and in close-ups. A lovely, lyrical visual and verbal exploration of the wonders of twilight. (Picture book. 4-7)--Kirkus Reviews

"Just after sunset, two girls and their father leave the shore and walk home along a path that follows a stream through open fields. The verse text and luminous watercolor, colored-pencil, and pastel illustrations focus on a series of animals that can be seen along the way: egrets, swallows, bats, June bugs, fireflies, deer, bats, rabbits, a fox, and a cat, all intent on their own activities. The bats hunt for insects, while a rabbit flees from the fox, and the fireflies flash to attract mates. The title suits the book well, as the words have a chant-like quality, and in the artwork, the sky gradually dims from radiant rose and gold hues to deepening shades of purple at nightfall. Each set of two three-line verses leads into the next, mentioning the animal featured on the following two-page spread. Read aloud, the poetry has a quiet, mesmerizing quality. The appended note explains that at twilight, when neither nocturnal nor diurnal creatures can see well, animals adapted to dim light emerge. A lovely science picture book."--Carolyn Phelan, Booklist

"PreS-Gr 1–In the glow of twilight, family members pack up their beach things and walk home. The lyrical text introduces readers to various animals (including egrets, deer, rabbits, fox, fireflies, skunks, and june bugs) out and about at twilight as the illustrations depict them and tangentially follows the humans' progress as they wend their way home. Betton's beautifully realistic watercolor spreads fully capture the colors of twilight and the wonderful details of the animals while never quite losing sight of the family walking home in the background. Thompson's lyrical text cleverly mentions a new animal at the end of each spread then in the following two pages expounds on it. This stylistic repetition is very effective and also opens the door for an effortlessly interactive storytime. An easy-to-understand "About Twilight" page is appended, in which Thompson explains what twilight is; the differences between diurnal, nocturnal, and crepuscular animals; and lists the creatures in the book. VERDICT A visually and poetically beautiful title that sneaks in some animal facts as well. Perfect for storytime or individual sharing. A must-have for most libraries." –Catherine Callegari, School Library Journal


"Readers follow a family leaving the shore as the sun begins to sink and shift to twilight hours. Thompson's lyrical text directs attention to the animals that become active at this time of day – the "crepuscular creatures emerge" – with smoothly rhythmic repetition that reads aloud beautifully. As deer graze, swallows skim, foxes sniff and bats swerve, each page turn leads to a new creature and heightens our appreciation of this calm yet intensely busy twilight time. The illustrations, rich with gold and rose dusky tints, showcase each animal and its setting with both realism and softness across double spread pages. The family wends their way home slowly, tucked in as a careful through-line to emphasize our environmental interconnectedness. The deepening sky colors conclude with purpley nightfall – making this title a perfect, calming bedtime selection. An author's note clearly explains what twilight is and gives more information about the intriguing animals encountered in the story. A poetic masterpiece infused with subtle science and soothing imagery, TWILIGHT CHANT is one of a kind." Review by Cathy Ballou Mealey on GooD ReaDs with Ronna